Simple or luxury camping in the Alps- With tips
Are you someone who loves back to basics and camping in nature or are you more of the luxury glamping life? In the Tyrolean Zugspitz Arena the camping possibilities are unlimited. Here the tip for eight summer campsites for a quiet vacation in a beautiful mountain environment or camping in the alps!
Tyrolean Zugspitz Arena
The Tiroler Zugspitz Arena is located between the Wetterstein Mountains and the Mieminger Mountain Range. It is a vibrant vacation region with beautiful nature, crystal clear lakes, tranquility, sporting challenges, regional culture and gastronomy. The residents are very hospitable and helpful.
Today eight campsites in the spotlight, from simple to very luxurious, and all very easily accessible, making camping in the alps only positive points.
Cycling, hiking or climbing
Because whether you come for your rest or just want to move. Sports enthusiasts like hikers, swimmers, cyclists and climbers can also enjoy themselves to their hearts' content here. On www.zugspitzarena.com/en you will find all campsites in the region with lots of interesting offers so that camping in the alps becomes a party. Below eight campsites briefly explained, so you can make your own choice:
Camping Heiterwanger See
'Here you are practically at the end of the world, there is no traffic and no noise,' says Birgit Hauser of Camping Heiterwanger See. The small campsite is located at the beautiful Lake Heiterwanger See. The partly stone-built pitches are largely situated between the permanent pitches. There is a grass beach and a little further is a river beach with pebbles. The area can only be explored on foot or by bicycle.
Alternatively, there are boat trips and a SUP rental at the Heiterwanger See. With 63 sites, Fischer am See is one of the small but excellent campsites in the region. Information: www.camping-heiterwangersee.at.
Camping Dr. Lauth Ehrwald
Camping Dr. Lauth is a small campsite on the outskirts of Ehrwald, at the foot of the Zugspitze. The pitches are mainly on terraces and have views of the surrounding mountain range. Conviviality can be found in the Biergarten with grill and at the pizzeria.
There is a petting zoo with small livestock such as rabbits and lambs. You can use an infrared sauna and a small construction pool. Nearby you will find a 9-hole golf course.
Information: www.campingehrwald.at.
Camping Zugspitz Resort
The five-star campsite of the Zugspitz Resort was recently expanded with 45 new camping sites. This brings the counter to 190 terraced pitches. Camping guests can use the many facilities of the beautifully renovated Zugspitz Resort.
And that makes the campsite a real glamping-de-luxe.
You will find a 1500 m2 Spiele & Wasserwelt with water park, indoor pools, saunas, steam bath, salt cave and relaxation rooms. The cozy hotel bar, cozy restaurants, camping store and gym are also at your disposal. Camping guests can also use the indoor adventure world with cinema, climbing wall, go-kart track and play & chill room.
For children from three years there are daily activities in Didis children's club.
The Deluxe-Badehaus offers 35 modern bathrooms with bathtubs and double sinks. In the well-equipped kitchen with dishwasher and refrigerators you can prepare the most delicious meals together. Information: www.zugspitz-resort.at/camping.
Camping Sunnawirt
Sunnawirt is a simple campground for campers. Here you will find a sunbathing lawn and excellent sanitary facilities. The restaurant serves delicious local products.
It is surrounded by nature and lies 1 km from Lake Heiterwanger. Information: www.sunnawirt.at/camping.
Camping Lärchenhof Lermoos
Camping Lermoos Lärchenhof has 40 pitches and is easily accessible. You can also stay overnight at the hotel or in one of the apartments if you wish. For enthusiasts there is a sauna, solarium and steam bath available. Lärchenhof is located next to an outdoor pool and paddling pool. For the sporty holidaymaker the campground offers excursion programs and guided hiking tours.
The campsite has a snack bar and an excellent restaurant. Information: www.laerchenhof-lermoos.at/the campsite.
Alpencamp Marienberg Biberwier
Alpencamp Marienberg is a welcoming terraced campground in Biberwier which is situated on a picturesque river. The Alpine camping site has a supermarket, restaurant and snack bar. The sanitary facilities are well cared for. For the sporty holidaymaker, the campsite has guided hiking tours and a bike rental so you can properly explore the area. Nearby you will find the biggest summer toboggan run in Tyrol.
Information: www.alpencamp-marienberg.at.
Happy Camp Lermoos
Happy Camp is a small, well-kept campsite with excellent sanitary facilities. There is also a small restaurant with bar at the campsite and the supermarket can be found around the corner. The surroundings are beautiful with beautiful hiking trails and there is free bus transportation to Heiterwang and Ehrwald.
Information: www.camping-lermoos.com.
Camping Biberwier
Feriencenter Camping Biberhof is a beautifully located family campground in Biberwier. This campground is located by a stream in a wooded area. A true paradise for nature lovers.
The sanitary facilities are luxurious and there is a good restaurant with local seasonal products. Information: www.biberhof.at/camping.
Information
At www.zugspitzarena.com/nl you can find all the campsites and other accommodation in the region with lots of interesting offers. For personal contact call +43567320000 or email info@zugspitzarena.com.
More information about Tiroler Zugspitz Arena
Those who want to experience the Zugspitze should come to Tyrol. Here are seven charming places in the Austrian-Bavarian border region that offer the best prospects for summer vacation: Ehrwald, Lermoos, Berwang, Biberwier, Bichlbach, Heiterwang am See and Namlos. Here you can do plenty of hiking, mountain biking or just relax lounging.
Another big advantage: in the Tiroler Zugspitz Arena, by the way, you always have the sun on your side. Plenty of places to camp, to be active and to relax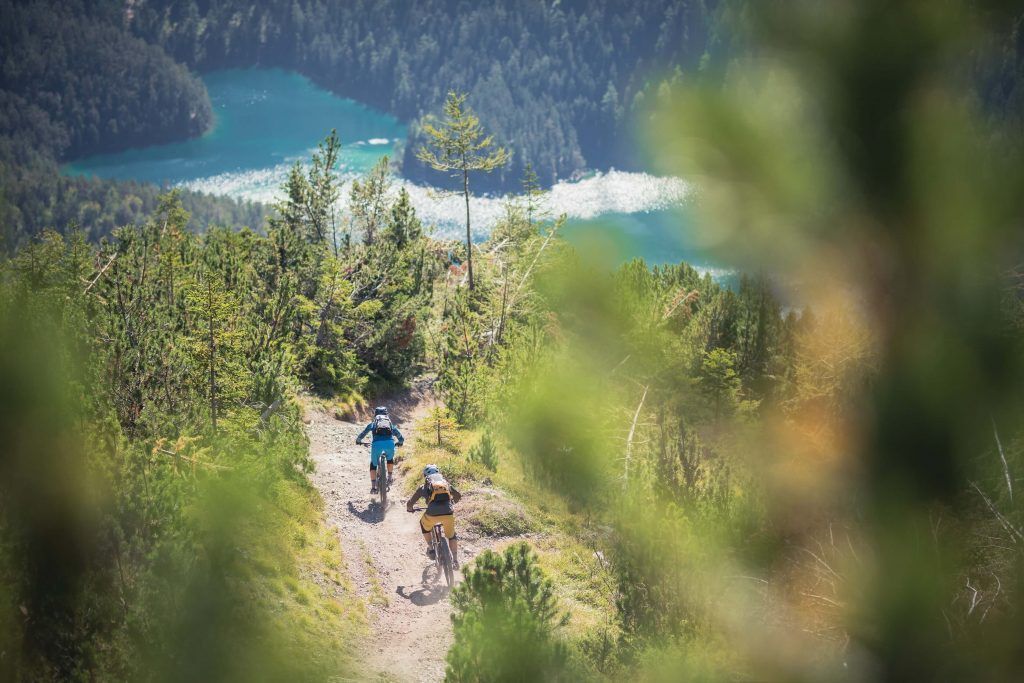 Austria, camping in the alps
Although I have often been to Austria, I have never been to this area. So I am not writing this article from personal experience. We are real campers and camping in the Alps is something we like to do. We like to hike in the mountains and climb a lot in our vacations.
What is this region, so definitely something for us. Now we do not know what we are going to do this summer. So who knows where I might end up. I know there is so much difference in experiences in terms of camping.
Because where we are looking for a quiet campsite, with pool or water for the boys, others are looking for more luxury. That is why I am sharing these campsites with you today. Choose your campsite and enjoy this summer!