DIY Rocket & Rocket backpack
The little man is still in a huge tinkering phase. Every day my house is an explosion of markers, scraps of paper, tape and scissors. Every day I ask again; what do you want to do today? And every day the answer is; to craft.
I get the most impossible assignments and I always have to come up with them. It's a real boy so tough things have to be crafted all the time. This time I had to make rockets.
DIY Rocket ship
What do you need?
I made a rocket and a rocket backpack. You actually need almost the same materials for both DIYs;
3 empty bottles
aluminium foil
cardboard
blotting or crepe paper in red, orange and yellow
glue
various colors of cardboard
ribbon
duct tape
For the rocket I packed a Coke bottle, wrapped in aluminum foil. Then I cut wings from shiny cardboard and taped them to the bottle. On the top of the bottle I made a point. I did this by cutting a red round paper to the middle and folding it to a point. At the bottom I glued a border of blue cardboard with 'flames' of tissue paper.
On both sides the rocket got a window of black paper and the rocket was ready. It looks very complicated but is actually quite simple to make. I tied a cotton thread to it and hung it on the lamp in the kitchen.
Our little man thinks he's totally cool.
DIY; Rocket backpack
Our little man often finds it necessary to run very fast through the house. Sometimes I even let him do it for a while to blow off some steam. Run ten laps around the kitchen. This works well, especially in bad weather, so he can lose his energy for a while.
In his game he often pretends to have rockets on his back from which fire comes out. So I thought it would be cool to make this for him. And so it happened.
Mama went back to work and made two rockets for the toddler's back.
I covered two plastic bottles with aluminum foil and taped them together with duct tape. I took off the cap of the bottle so that I could stick the flames in it. I cut these from long strips of tissue paper, as I did with the rocket.
Then I taped a gray ribbon to the rockets. Like the straps of a backpack. Within no time the little man had a cool rocket backpack on his back.
Now he totally could top speed running around the house.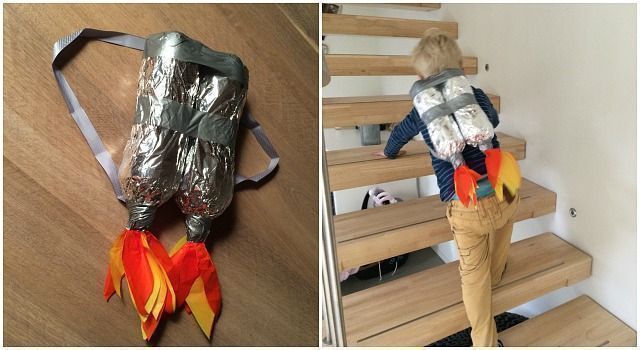 Do your children also race through the house in bad weather?? What is your solution for that?
♥ ♥ ♥ Affiliate links are used on Fulltime Mama. This means that if you click on one of the links, we may receive a small commission. It costs you nothing extra, but it does give us something. With these proceeds we can maintain this website. We also sometimes get paid for an article or we get a product in exchange for a blog post.
Our opinion therefore remains unchanged and honest. For more information you can read the disclaimer. ♥ ♥ ♥