DIY Seasonal tree snowflakes
Sinterklaas has been put back on the boat so we have taken the Christmas tree from the attic. Nice weather those lights in the room. The seasonal tree has also been stripped of its hats and mitres. Of course, there had to be a new interpretation. I made snowflakes out of paper.
Add a cozy candle and we have a nice table that fits well with the season. Now it's just waiting for real snow.
Seasonal tree snowflakes
Our seasonal tree has undergone another transformation. The little man keeps asking when it will snow. Well, that is always the question in the Netherlands. So I made some snowflakes for the tree.
This way he can already dream a little about the snow. I made two different kinds of snowflakes. Both are easy to implement, but one is a bit more laborious than the other.
To fold a nice snowflake (or star) you need 6 square papers. I used folding leaves of 5x5cm. The larger the paper, the larger the snowflake.
Fold all six in the same way.
Fold the square, crosswise, in half. This creates a triangle.
Fold it in half again.
Cut the triangle three times. As shown in the picture. Cut to three millimeters from the folding edge.
When you unfold the piece of paper, it should look like 4.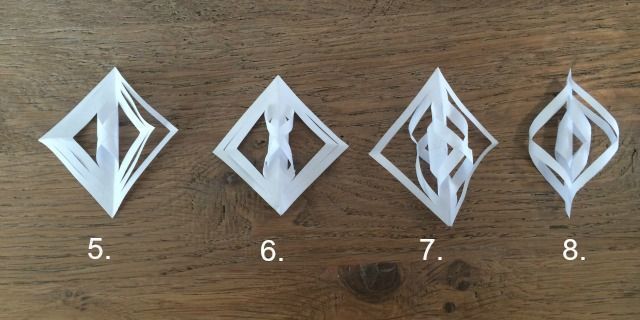 5. Fold the inner dots together and glue them.
6. Turn the paper over and stick the following dots together.
7. Turn it over again and glue the dots together.
8. Turn it over again and glue the dots together. You should now have one point of the snowflake. Repeat this six times.
So until you have six points as above.
Then you stick six of these shapes together and you have a snowflake. (Or poinsettia, whatever color you make it in.)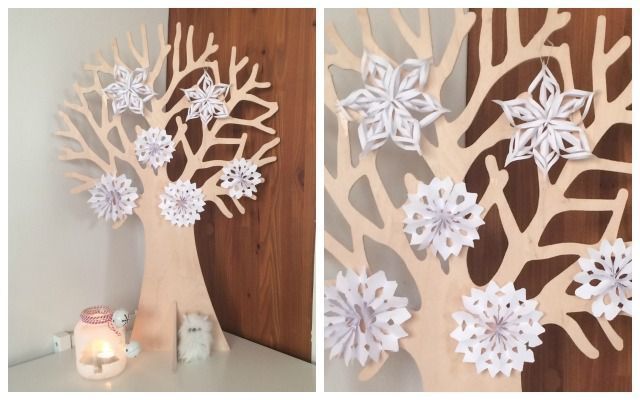 I hung the snowflakes on the tree with cotton thread. The bottom snowflakes, which you see in the photo above, are made like you make a rug out of paper. I folded a harmonica from a rectangular paper and cut it.
When you unfold it and glue it down you have a snowflake.
Do you already have cozy Christmas decorations in your home?? Apart from the Christmas tree, which most people already have.
♥ ♥ ♥ Affiliate links are used on Fulltime Mama. This means that if you click on one of the links, we may receive a small commission. It costs you nothing extra, but it does give us something. With these proceeds we can maintain this website. We also sometimes get paid for an article or we get a product in exchange for a blog post.
Our opinion therefore remains unchanged and honest. For more information you can read the disclaimer. ♥ ♥ ♥