Knitted dresses- stylish, beautiful, festive and warm
Now that it is getting colder, there is nothing better than snuggling up in your lovely thick knitted sweater, cardigan or dress. I knit and crochet a lot, but I have never tried a dress before. I'd rather buy this one in the store.
You can find plenty of stylish ones online knitted dresses.
Knitting and crochet
Knitting and crocheting are great fun but I don't get any further than a sweater or cardigan and a knitted sweater, I'd rather leave that to the professionals. And let's face it, there is so much choice in stores, I'm not going to burn my fingers on that one.
Mostly dresses
Ordering clothes online is becoming increasingly popular and that makes sense, it's so easy to just order clothes from home. I used to buy my dresses often at Tante Betsy. Cheerful, colorful dresses. Now that I am getting older, I find that quieter stylish dresses suit me better. And these days I often choose more even colors and different fabrics.
Knitted fits perfectly.
Knitted dresses sporty or festive
Knitted clothes are not only warm, it also looks stylish. There is plenty of choice in knitted dresses, think of a loose-fitting sweater dress or a feminine, fine model. On Esprit.nl you will find beautiful, stylish and festive knitted dresses. The choice that immediately caught my eye are these dresses:
Dress at the topL Stylish for the day €59.99
Sweater dress, sporty €59.99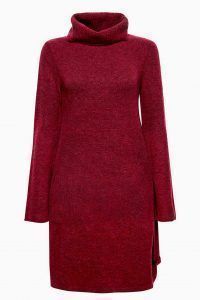 Festhetic and beautiful €79.99
Beautiful dresses that you can combine beautifully with thick tights or tights. Nice with heels or with sneakers.