DIY Simple Birdfeed Making in Fun Shapes
In the winter it is always nice to make something extra ' s for the birds. It is Slowly Getting Colder So There come a Time When the Birds Can't Find much food Themselves. A Little Extra Feeding Can't Hurt And It also Brings Some Life Into Your Garden.
We always have something hanging around for all the titmice and finches that visit our garden. Regularly we make something ourselves and so I share a nice DIY with you.
How to make bird food in a simple way? Super fun and easy to do with the kids.
DIY Making bird food
We have several trees in the garden that we often hang something in for the little birds. Sometimes a peanut garland, sometimes some fat balls but also regularly something we made ourselves. In autumn we already made a birdhouse from a packet of baby food.
We also regularly fill the large pine cones with goodies.
This time we made some kind of fat balls without frying fat. This saves a lot of mess and is fine to do with small children.
What you need?
birdseed
6 sheets of gelatin
A bowl of cold water
1 cup of hot water
1 cup of flour
4 cups of bird food
cake pan/muffin shape
lollipop sticks or satay sticks
a large bowl or mash tun
a spoon
string or ribbon
How to proceed?
Remove 6 gelatin leaves from the package and let them soften in a bowl of cold water. Meanwhile, put 4 cups of bird food in a batter bowl. When the gelatin leaves have softened, squeeze them and put them in a cup of hot water.
Now let the gelatin dissolve completely. Then put this in the batter bowl with the bird food and stir well so that all the bird food is moist. Finally, stir in one cup of flour.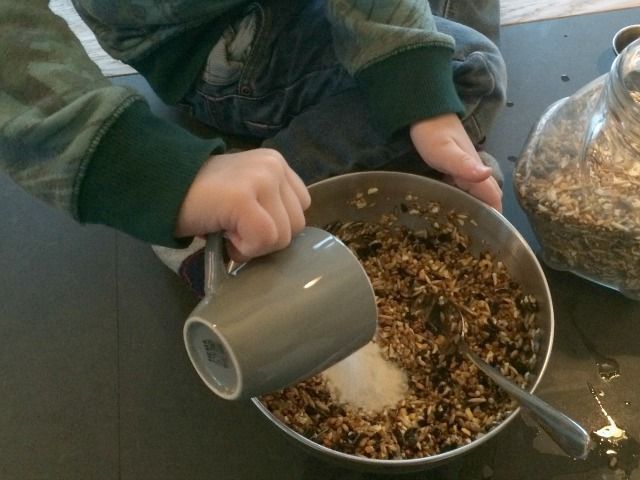 When everything is mixed well you can fill your molds. We used a spoon to put the mixture into the cookie cutters. You can also choose to put the mixture in plastic cups, cupcake molds or a muffin tin.
Press everything well. I then poked lollipop sticks into it to create holes to put string through. Let the shapes dry for a few hours until they have hardened completely.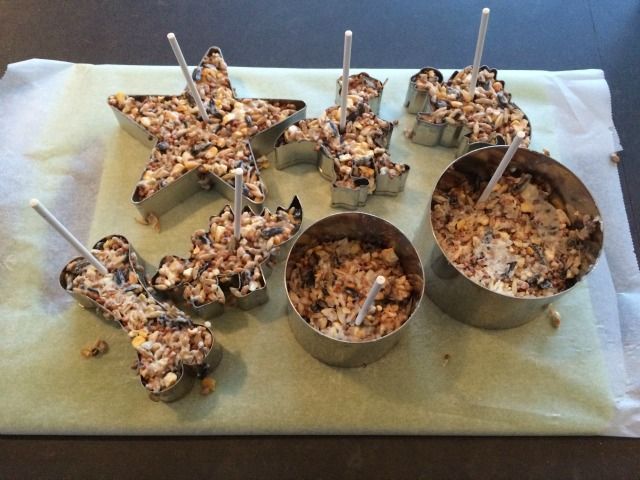 When your molds are completely hard you can carefully push them out. Little man also wanted some dino shapes but that was pretty ambitious. Afterwards they were missing some legs or a head so we put them on a plate for the birds.
The big shapes turned out really well and the birds are already busy munching on it.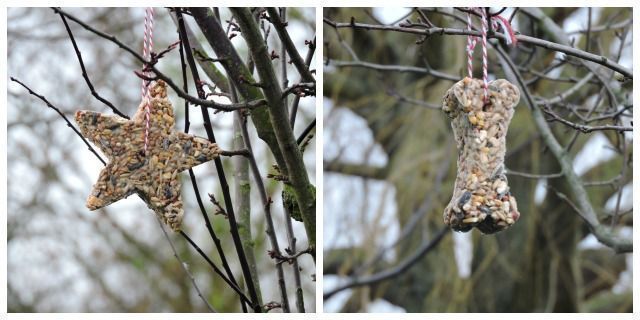 Do you always have something for the birds in the garden??
♥ ♥ ♥ ♥ Fulltime Mama uses affiliate links. This means that if you click on one of the links, we might get a small commission on it. It costs you nothing extra, but it does give us something in return. With these proceeds we can maintain this website.
Also, sometimes we get paid for an article or we get a product in exchange for a blog post.
So our opinion remains unchanged and honest. For more information, please read the disclaimer. ♥ ♥ ♥