Meccanoid; mom wants a robot!
Bblogt was invited to an exclusive preview of Meccanoid. A very cool 'toy robot' from Meccano introduced by toy manufacturer Spin Master. Of course, little man also got to meet this robot.
We had a very nice afternoon and I am now considering to buy a robot. I see possibilities!
Meccanoid G15KS
Meccanoid G15KS is a robot built entirely from Meccano parts. You probably remember this, as Meccano has been around for 115 years, those little plates, nuts and bolts that kids use to build technically. After about 6 hours of tinkering, assembling over 1200 parts and some simple programming you have a super cool robot of 120cm tall. (Which fortunately we did not have to do ourselves.) This robot was even bigger than the little man. He found it very impressive but also very cool. When the robot's eyes light up green you can give it a command.
For example, Meccanoid did a little dance for us and we gave him a high five. You set all these commands yourself. You can teach him a lot as he has a good memory and has 10 motors so you can move his head, arms and legs. Meccanoid recognizes your voice and can repeat and imitate you.
Too much fun! Since this is such an intelligent toy I am considering buying it and training it to be a cleaning lady. I have to check with the manufacturer to see if there are possibilities for that. 😉
Zoomer Dino & Zoomer Pup
What the little guy also had a lot of fun with was the Zoomer Dino. This cool toy is also a robot. A lot smaller than the Meccanoid but just as much fun.
Our little man quickly got hold of the remote control of this dino. This dino responds to touch and commands's. He is a bit hot-tempered because when you pull his tail his eyes glow red and he acts quite ferocious.
Of course our toddler found this super funny. After fifteen minutes of playing we had to pull Zoomer Dino out of his hands because there were more children who wanted to try the dino. I agreed with him that we will put Zoomer on his wish list.
Secretly this mama thinks such's little dino in the house is also very cool so who knows.
Zoomer Pup was another cool robot. This one was chilling on a table and beckoned to me. Despite being a toy puppy I thought he looked really cute.
After a short introduction I almost let the puppy bounce off the table. After all, the puppy turned out to be just as stubborn as my own dogs. This robot puppy has no remote control but again you can learn commands's. However, you have to train him because he has to learn the command first. So I got a flashback to my own dogs' puppy classes but without wet grass and cold dogs.
Seems ideal to me! Yep, I also secretly have this puppy on my.. uh, the little man's wish list.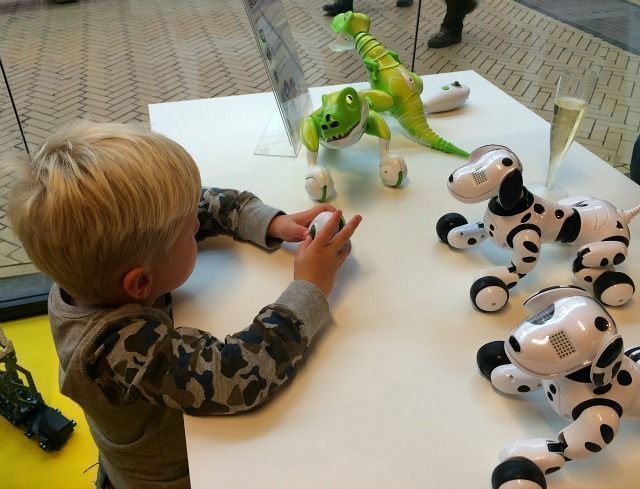 After playing with Meccanoid and the Zoomer Dino and Pup we built with the present Meccano. The big and little man made a vehicle together. In short, we had a pleasant afternoon.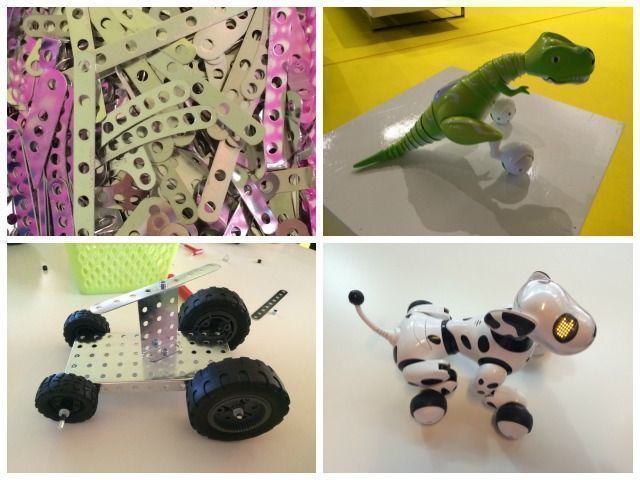 Would you like a robot? What would you like to use it for?
♥ ♥ ♥ Fulltime Mama uses affiliate links. This means that if you click on one of the links, we may get a small commission on it. It costs you nothing extra, but it does give us something extra.
With this revenue we can maintain this website. Also, sometimes we get paid for an article or we get a product in exchange for a blog post. Our opinion remains unchanged and honest because of this. For more information you can read the disclaimer. ♥ ♥ ♥