Mac 'n Cheese
By Debbie; Most children like pasta. Some just from dry pasta but if there is anything through it, preferably not too much. Pasta with tomato sauce and meatballs is a favorite here but I wanted to try something different. In America they eat very
Often Mac 'n cheese, pasta with creamy cheese sauce. Ok, it's obviously not very healthy and quite powerful but also tasty sometimes.
Mac 'n Cheese
By the way, this is also an ideal dish to prepare in advance. Actually, it's just more delicious the next day when all the flavors have been absorbed. Delicious comfort food, especially with this stormy weather outside!
Do eat some vegetables with it, broccoli for example or a green salad for some healthy counterparts.
What you need?
For 4 people
– 40 grams of butter
– 2 cloves of garlic, thinly sliced
– 1 teaspoon mustard
– 100 grams of grated old cheese
– 300 grams of macaroni or shells
– 75 grams of ham strips
– 100 grams of chorizo in cubes
How to proceed?
1. Preheat the oven to 180 degrees Celsius.
2. Bring a large pan of salted water to a boil.
3. Melt the butter in a saucepan.
4. Add the garlic and flour and stir until you have a nice golden brown roux.
5. Stir in the mustard and add the milk little by little while stirring until it is a smooth sauce.
6. Meanwhile, cook the pasta according to the instructions.
7. Bring to a gentle boil and simmer until sauce is thick and smooth. Always keep stirring!
8. Stir in half the cheese and season with salt and pepper.
9. Meanwhile, fry the chorizo and ham strips in half a tablespoon of olive oil for a few minutes.
10. Stir the sauce, chorizo and ham into the pasta. Season to taste with a little extra salt and pepper and some rosemary.
11. Sprinkle with the rest of the cheese.
12. Put everything in a spacious baking dish and bake for another 25 to 30 minutes until the top is golden brown.
Inspired by a recipe from Jamie magazine.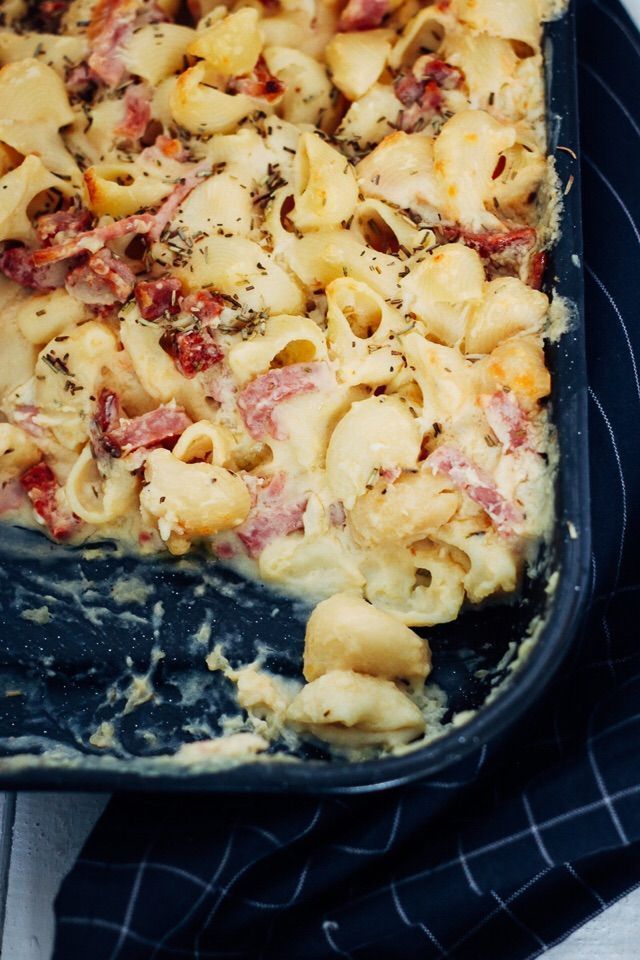 ♥ ♥ ♥ ♥ Fulltime Mama uses affiliate links. This means that if you click on one of the links, we may get a small commission on it. It doesn't cost you anything extra, but it does give us some profit.
With these proceeds we can maintain this website. Also, sometimes we get paid for an article or we get a product in exchange for a blog post. Our opinion remains unchanged and honest because of this. For more information please read the disclaimer. ♥ ♥ ♥