DIY Saint seasonal tree and spice nuts bowl
Finally! Today is the day, Sinterklaas is coming to the country. In a few hours we will be anxiously waiting for the steamer in Maassluis. Hopefully not too cold and a bit dry, but otherwise we can warm up by the fireplace before the arrival on TV.
Bring on the Saint Madness. Last week I already made a countdown calendar, but now the season table also had to believe it. This time we made a Sint seasonal tree and we even crafted a bowl for the spice nuts.
Saint Season Tree
You know the seasonal tree by now. Every so often we change the theme. The themes always relate to the seasons or holidays.
After Halloween, it is now of course Sinterklaas.
I made three miters and three hats from felt. The miters got a yellow cross that I stuck on it and the hats got a real feather. I attached it with a needle and thread. Then I tied the Pete hats and the miters in the tree with a thread.
A quick but fun job.
A few Sinterklaas booklets and the spice nut bowl complete it. You can read further on how we made that scale.
Spice nuts come
Sinterklaas includes spice nuts. And spice nuts belong in a bowl, but then a real Sinterklaas bowl. I secretly already have some pockets behind the teeth, since the spice nuts were already in the shops at the beginning of September.
Now that we have such a beautiful bowl, I of course had to buy a fresh bag of spice nuts again.
What do you need?

Wallpaper glue
bowl/dish
Newspapers
Brush
Modpodge
Santa wrapping paper
Red paint
cling film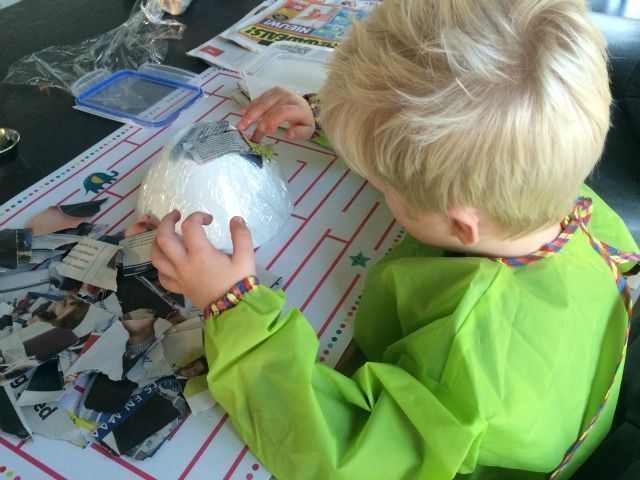 Take a dish or bowl and wrap it well with cling film. This way you can easily remove your bowl again. Turn the bowl upside down. Prepare the wallpaper paste and cover the outside of the bowl with newspaper.
Make sure you make at least three layers on top of each other otherwise the whole will become too weak. Of course there will have to be spice nuts in it later. Fill the bowl completely. Let it dry thoroughly overnight.
When the bowl is dry, you can pull it off the bowl and discard the cling film.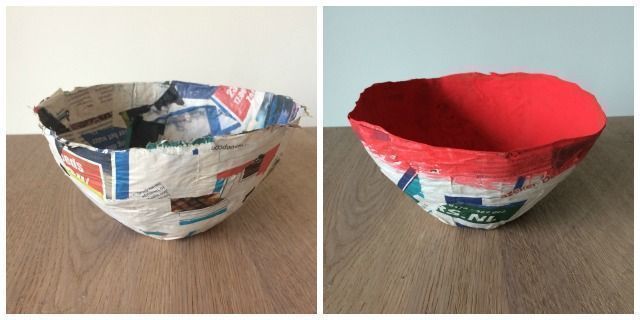 Then paint the inside of the bowl red or whatever color you want. You also let this dry well. I gave it several coats so that the paint covered better. When this weather is dry, you can cover the outside with Sinterklaas wrapping paper.
I did this with modpodge. This way you immediately get a nice smooth varnish layer. I also gave the inside a layer of mod podge, so the bowl is nicely finished.
Let everything dry again and fill it with spice nuts. Lets eat!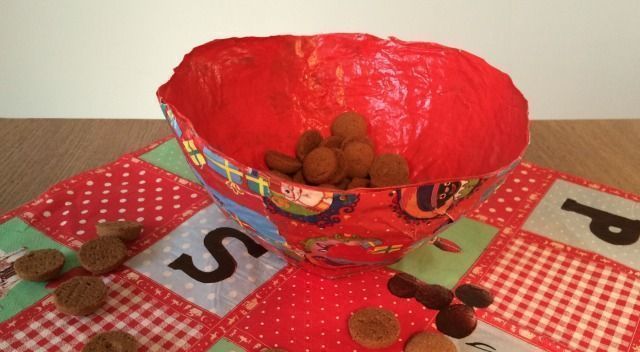 Is your house already Sint-proof with nice decoration? I'm always up for great tips!
♥ ♥ ♥ Affiliate links are used on Fulltime Mama. This means that if you click on one of the links, we may receive a small commission. It costs you nothing extra, but it does give us something. With these proceeds we can maintain this website.
We also sometimes get paid for an article or we get a product in exchange for a blog post. Our opinion therefore remains unchanged and honest. For more information you can read the disclaimer. ♥ ♥ ♥