Symbol of motherly love
A mother's love for her children is indescribable. That starts during pregnancy and becomes immense at birth. At least that's how I experience it. To symbolize love for your children you can do several things. Are you curious what my symbol of motherly love is?
Read on quickly.
Symbol of mother love
I got my first tattoo when I was in my twenties. In the following years, a few more followed. Not all my tattoos have a meaning, but in 2012 I got one that symbolizes the love for my little man. On my right wrist I have a very cool flower. Meanwhile, I am of course also mommy of a sweet little girl.
In a few weeks I will go under the needle again. I also get a symbolic tattoo for my little lady. I cannot wait.
Kaya Jewelry
Last week I got something sent to me that fits in very well with this TAG. From Kaya Jewelry I could choose a very cool bracelet set for my little girl and myself. I chose a sweet little bracelet with pearl beads and a coral colored rose.
A ladies size for myself and a baby size for the little girl.
Soon I received the package. Unpacking was already a party because the bracelets come in very nice pouches. Something like that gives just that little bit extra. I love it.
Of course we put the bracelets on right away. They fit perfectly and can, by the chain, still be adjusted. So the little girl can wear the bracelet for a long time to come.
So very handy. On the bracelet of my daughter is a heart charm with her name on it. We are very happy with our matching bracelets.
Would you also like to'n beautiful set? Go to the website of Kaya Jewelry. On the website you will find many more beautiful sets.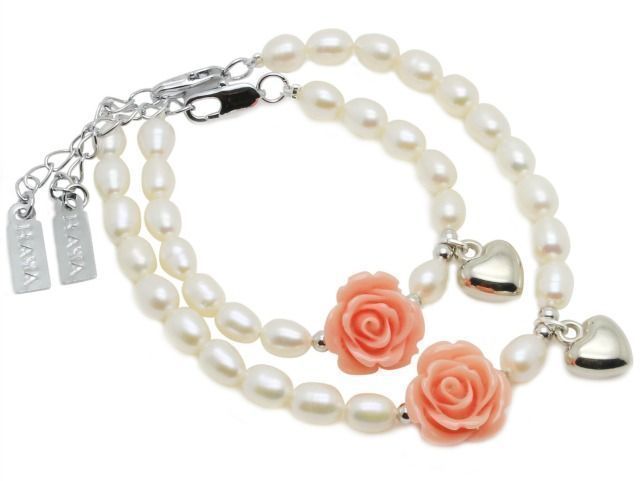 Do you also have something that symbolizes the love for your child(ren)?
♥ ♥ ♥ Fulltime Mama uses affiliate links. This means that if you click on one of the links, we might get a small commission on it. It costs you nothing extra, but it benefits us. With this revenue we can maintain this website.
Sometimes we also get paid for an article or we get a product in exchange for a blog post. Our opinion remains unchanged and honest. For more information you can read the disclaimer. ♥ ♥ ♥